Court Battle Continues
Here is our media release regarding the proceedings and outcome of that day.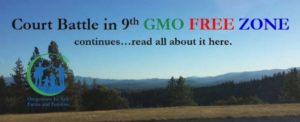 On April 14, 2016, Josephine County Circuit Court Judge Wolke heard oral arguments in a packed courtroom on Plaintiffs' Motion for Summary Judgment and Intervenor's Cross-Motion for Summary Judgment in a case involving Josephine County's Genetically Engineered (GE) Plant Ordinance 2014-007, which was approved by voters on May 20, 2014 as Measure 17-58. The Ordinance bans the growing of genetically engineered plants within the county.
The Center for Sustainability Law (represented by attorneys Melissa Wischerath and Stephanie Dolan) appeared for Intervenors Oregonians for Safe Farms and Families (OSFF) and Siskiyou Seeds, and Portland attorney John DiLorenzo appeared for Plaintiffs Robert and Shelly White. Plaintiffs filed a lawsuit challenging the GE Plant Ordinance shortly before it was set to become effective in September 2015.
OSFF and Siskiyou Seeds challenged the Plaintiffs' legal standing and argued that the state "Seed law" at issue is unconstitutional because it creates a regulatory vacuum — a "preemption without protections." Furthermore, the "Seed law" preempts the regulation of seeds, not plants or farming practices so there is no conflict with the GE Plant Ordinance.
Attorney Dolan stated, "Once we look closely at this case — from the shady circumstances of the state seed law passage that created a regulatory void, to the plaintiffs' inability to reach their threshold standing requirements, including their mere desire to grow GMO crops without a required contract to do so —  the whole house of cards of this manufactured lawsuit come tumbling down."
Attorney Wischerath attacked the Whites' legal standing to file the lawsuit, and cast doubts on harm suffered by the Whites due to the Ordinance.
"They need more than their general disdain for this Ordinance to get into court," said Wischerath, who pointed out that the depositions and documents in this case revealed the couple has not proved to hold a valid contract with biotech developer Syngenta, which would be necessary to grow GMO sugar beets, and the "lease" agreement where GMO crops were alleged to be grown but for the Ordinance, is also not valid.
In turn, Mr. DiLorenzo (a lobbyist and the author of the state preemption statute at issue, with a long record of representing biotech interests) asked the court to declare that the GE Plant Ordinance is invalid and to permanently enjoin its enforcement.
Mr. DiLorenzo further argued that his clients (who did not attend the hearing) had legal standing to pursue the action because they intend to grow GE crops in the future and the GE Plant Ordinance prevents them from doing so, even if they cannot prove a financial hardship.
Intervenors observed the 'empty chairs' in the room, notably Plaintiffs and the state Attorney General's office, which was served with notice of the proceedings yet declined to participate.
Apart from the question of standing, the parties also debated whether the Seed law that purports to preempt local regulation of agriculture runs afoul of Oregon's constitution.
Wischerath argued that the Seed law applies to seeds not plants. "The legislature knows how to write laws, had they meant to preempt the regulation of plants then they would have expressly said so."
Dolan noted "The Seed law thus creates a regulatory void, affording only preemption and thus no protection for Josephine County farmers."
The Oregon legislature enacted the Seed law in 2013 purportedly to "ensure a uniform state policy with respect to regulation of agricultural seed cultivation in Oregon and to avoid a patchwork of potentially conflicting local laws." However, the law provides for no regulation at the State level, and the Oregon Department of Agriculture has publically declined to regulate genetically engineered plants so it creates a regulatory void.
Mary Middleton, Director of OSFF, when asked if she felt uneasy about the day in court replied, "Heck, no. Our attorneys represent the will of the people in Josephine County and are following our goals to protect and promote safe farms and families throughout our county and the state of Oregon. The outcome of this litigation will affect all of us, as the threat of genetic contamination cannot be stopped without our local GE Plant Ordinance."
Local farmer Don Tipping, Siskiyou Seeds agrees, "As a farmer I am encouraged by our attorneys' skillful articulation of the complex intersection of law and biology.  We intend to be successful and continue to protect the Rogue Valley as a refuge from GE plant pollen and transgenic contamination creating a sanctuary for heirloom, open pollinated seeds and agriculture in a nation largely blind to the immense value of this."
Judge Wolke indicated he would take the matter under advisement and issue a written decision as soon as possible.
Watch this website for updates.
Thank you for Supporting the

Josephine County
Genetically Engineered

Plant Ordinance!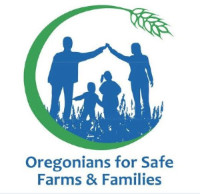 Protect Our GMO Free Zone!
Once again, 'The Little County That Could' needs all hands on deck.
Your contribution will help our legal team continue in this vital effort to defend the will of the people.
Please contribute today via your credit/debit card or paypal account…. it's just a click away.
Thank you for standing up with us today!
Oregonians for Safe Farms and Families (OSFF) is a non-profit organization working to support the restriction of GMO crops in Josephine County, Oregon in order to protect and promote safe farms and families.
Oregonians for Safe Farms and Families was founded in 2014, and has been instrumental in passing and supporting the GMO restriction in Josephine County. Located in Grants Pass, Oregonians for Safe Farms and Families is a volunteer-run nonprofit organization and along with its sister organization, GMO Free Josephine County, works tirelessly for the GMO Free community throughout the Rogue Valley.