Court Hearing Results
May 16, 2016

Take heart and stay strong, Josephine County citizens and farmers.
News today from the judge informs us he has ruled in favor of the plaintiffs in the lawsuit in which we have intervened. Our legal team has fought on behalf of Josephine County voters to try to maintain the ban on GMO crops here.
We are disappointed, but we know that change can take a long time, especially when in a difficult fight up against the largest chemical company in the world!
We are pursuing all of o
ur options and continue to be vigorously committed to protecting our farms and families in Josephine County and throughout Oregon! The 9th GMO FREE ZONE in the US stands on hold, for now.
We'll continue to post updates here as things develop. Thank you for continuing to support our efforts to protect our GMO-free family farms and the health of our county.
Watch this website for updates.
Thank you for Supporting the

Josephine County
Genetically Engineered

Plant Ordinance!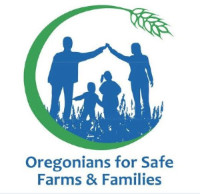 Protect Our GMO Free Zone!
Once again, 'The Little County That Could' needs all hands on deck.
Your contribution will help our legal team continue in this vital effort to defend the will of the people.
Please contribute today via your credit/debit card or paypal account…. it's just a click away.
Thank you for standing up with us today!
Oregonians for Safe Farms and Families (OSFF) is a non-profit organization working to support the restriction of GMO crops in Josephine County, Oregon in order to protect and promote safe farms and families.
Oregonians for Safe Farms and Families was founded in 2014, and has been instrumental in passing and supporting the GMO restriction in Josephine County. Located in Grants Pass, Oregonians for Safe Farms and Families is a volunteer-run nonprofit organization and along with its sister organization, GMO Free Josephine County, works tirelessly for the GMO Free community throughout the Rogue Valley.