And The

BEET

Goes On

 
Concert & Gourmet Farm-to-Table Benefit Dinner
for a GMO Free Rogue Valley
Sunday, May 7, 4-8 pm
Plaisance Ranch in Williams, Oregon
Admission Limited to Advance Ticket holders
Tickets: $75 per person or 2 for $125
Featuring local folk duo
Hollis Peach!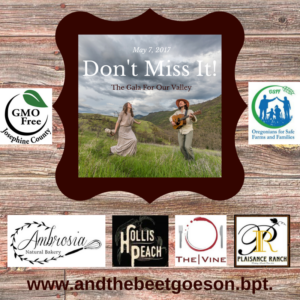 GMO Free Josephine County and Oregonians for Safe Farms and Families are known for melding good food with a good cause!
The pastoral surroundings at Plaisance Ranch will be the setting for an elegant GMO-free gourmet dinner designed for both carnivores and vegetarians. Foodies of all types will enjoy the feast planned for this event. The dinner created by local Chef Dustin of The Vine Restaurant will showcase locally-sourced ingredients, harvested from farms throughout the Rogue Valley.  Among these selections will be organic grass-fed beef provided by Plaisance Ranch.
Dinner will also feature wine pairings provided by Joe and Suzi Ginet of Plaisance Ranch, who bring their passion for fine food and wines to the project.
Scrumptious desserts by Chef Sabrina of Ambrosia Bakery will top off the meal.
Diners can relax to the beautiful harmonies of Rogue Valley duo Hollis Peach. Songwriter and guitar wizard Dan Sherrill and his silky-voiced musical partner Jacqui Aubert have been described as "an evocative progressive folk duo with musical arrangements that are lush, intricate and often hypnotic in their elegance."
Guests will have the opportunity to bid in this year's silent auction offering an array of goods and services donated by local businesses that portray the diversity of expertise and talent within the Rogue Valley.
Proceeds from the event will support the work of these two volunteer-led organizations – raising community awareness about the benefits of GMO-free agriculture and food, promoting and preserving our GMO Free Zone, and supporting the ongoing legal and legislative work being done in the Rogue Valley and the state capitol.
Seating is Limited for this event.
Admission by Ticket Only and must be purchased by May 1.
$75 per person or 2 for $125
Available online at:
http://andthebeetgoeson.brownpapertickets.com/
Tickets can also be purchased in person at Whistling Duck Farms (Williams), Diggin' Livin' (Cave Junction), and The Vine Restaurant (Grants Pass).
Hollis Peach!